Jgn konpius dgn tajuk yerrr.. Nih bkn nk story bab param si pelakon tuh, nih nk crita bab param homemade with luv by si mama utk si anak bujang yang gering tiada berkesudahan.. Dah x larat nk sumbat ubat doc, abes ubat around 6 hrs mcm tuh panas dtg blk, so ahkak pun dh x tentu arah nk buat apa.. Apa lg amek tepon, call mak kt kg tny petua tradisional.. Mak kata cari daun pebenda tahh slalu menjalar2 kt tanah celah2 rumput liar.. Adoi makkkk.. Ingat anak mak nih kenai ka daun daun kontan mcm tuh, kenai ikan kt market pn mak dh patut sujud syukur dahh.. Huhuhu.. Habaq kt mak kt cni ada la sg tepi umah byk rumput tp tuh jamban hanjing kws taman neh.. Ada brann nk pi petik daun-daunan kt ctu??? Mak kata.. Hang toksah dok gatai.. Satgi jenuh pulak nk samak najis mughallazah tuh.. Ok mak.. Go to next petua...
Umah hang ada bedak sejuk??? Uikss? Soklan mencabar neh... Sat pi tny mak mentua.. Ok bedak sejuk beres.. Umah hang ada asam jawa?? Kalau xdak mmg nk kena lempang laju2.. Ok baik lah mak.. Asam jawa mmg ada, kalau xdak pn Ni pi start enjin keta pi beli, tlg jgn lempang, huhu.. Hang amik asam jawa campoq dgn bedak sejuk, boh ayaq sket jgn lembik sgt jgn pekat sgt.. Tempek kat dahi budak demam.. InshaAllah cepat baik, dpt tarik panas... Maka hasilnya adalah seperti di bwh..
Nak boh pun bkn sng.. Kena auta dulu kata nk boh playdoh kat dahi.. Baru dia tadah dahi dia.. Oh anak!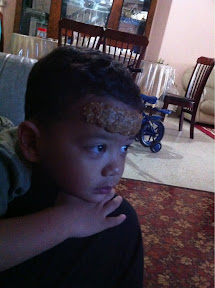 - Posted using BlogPress from my iPhone